My European SIM is now available as an eSIM

Over 90 million tourists visit France every year. Some of you will be staying for a week's vacation before heading off elsewhere in Europe 🙂.
Throughout your stay, to keep in touch with friends in Europe, your family back home and even to call your Airbnb host in Spain, you can of course use your existing SIM card, but this could turn out to be hard on your wallet!
Bouygues Telecom's My European SIM prepaid deal has been on the market since 2019. It is the ideal solution to make your life easier* as you travel across France and Europe:
20GB of Internet in France and Europe (usage through mobile hotspot and tethering included);
Unlimited voice and texts in France and from Europe;
€25 of voice and text credit to international and French overseas departments numbers;
what's more – a dedicated app, a free "Petit Futé" tourist guide, as well as discount coupons for Galeries Lafayette, Bateaux Parisiens and the Lido and for many more places.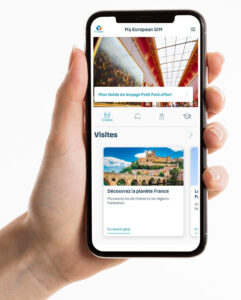 The big difference this year is that My European SIM is now available in eSIM version! And you can sign up to this deal from home, before even setting foot in Europe. You'll get your eSIM card via e-mail in the form of a QR code, to be activated in one click on arrival in France. Everything is included for €39.90 and the eSIM can be used for 30 days.

And since you'll be getting My European eSIM via e-mail, you'll also be doing your bit for the environment!
My European SIM
All about My European SIM (eSIM version)
Click here

* See conditions, list of destinations and rates on bouyguestelecom.fr